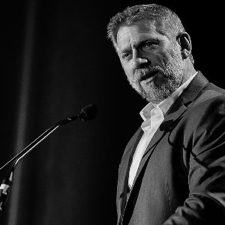 Ken Graves
Ken Graves is the Senior Pastor of Calvary Chapel in Central Maine. He left at the age of sixteen to pursue training in the ministry. At age twenty-two, he lead by God to return to his hometown to present the Gospel and build a church. In 1991, a core group of about twelve people began meeting in Ken's apartment to share Bible study, prayer, and fellowship. Continuing to reach out, the ministry has grown into a healthy body of believers and church plants. Ken travels throughout the United States and Internationally much of the year doing Conferences. Ken is part of the team for The American Renewal Project, where he has the opportunity to encourage Pastors across the Untied States to preach the Word and not be intimated when it comes to encouraging them to express to their congregations to vote Biblical.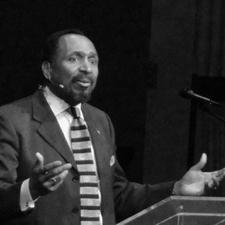 Bishop E. W. Jackson
Bishop E. W. Jackson, Sr. is author of the book, "TEN COMMANDMENTS TO AN EXTRAORDINARY LIFE – Making Your Dreams Come True" published in the summer of 2008. He is also Founder of Exodus Faith Ministries, a nondenominational ministry headquartered in Chesapeake, Virginia with a satellite church in Boston, Massachusetts.
On July 4, 2009, he launched S.T.A.N.D., [Staying True to America's National Destiny]. STAND is a national grassroots organization dedicated to restoring America's Judeo-Christian history, faith and values and preserving its Christian culture. Its signature project is establishing January as "American History Month", a time for celebrating the nobility of our nation's founding and history.
ds
He is originally from Chester, Pennsylvania. After three years in the U.S. Marine Corp, he attended the University of Massachusetts (Boston), graduating Summa Cum Laude with a B. A. in 1975. He finished college in three years, and was awarded the Phi Beta Kappa Key.
A 1978 graduate of Harvard Law School, he also studied theology at Harvard Divinity School and was licensed to preach by Ebenezer Baptist Church in Boston. Shortly after graduating from law school he became a Deputy Commissioner of Banks for Massachusetts. He later served three years as Executive Director of the West Medford Community Center, a human service agency.
A gifted communicator, Bishop Jackson was a panelist on "Topic Religion", Boston's longest running religious radio talk show, a full time co-host for "Jackson & Jurkowitz" on Boston's WHDH radio and host of a daily nationally syndicated program on Radio America.
During his career in Boston, he practiced law for 15 years and started Boston's first and only all-gospel radio station.
In recognition of his national leadership, he was consecrated a Bishop on June 28, 1998. He and his wife moved to Chesapeake, Virginia to plant another church and establish the headquarters for Exodus Faith Ministries, Int'l. While in Boston, he served five years as a minister for the Boston Red Sox Chapel services and protestant Chaplain for the Boston Fire Department.
He has taught Administrative Law at Northeastern University and Business and Commercial Law at Strayer University in Virginia Beach and Chesapeake, Virginia.
He and his wife are the founders of the "Chesapeake MLK Leadership Breakfast" which brings together hundreds people from the greater Chesapeake area to celebrate the life and ideals of Dr. King. They are also the Founders of "Youth With A Destiny", a nonprofit organization dedicated to helping youth avoid gangs, drugs and violence through faith, education and positive activities.
He presently serves as a member of the Chesapeake Police Advisory Board, a Trustee of the Hampton Roads Chamber of Commerce, a Board Member of its Chesapeake Division and a Trustee for Lead Hampton Roads.
Bishop Jackson's media appearances include ABC's Good Morning America, ABC's Politically Incorrect, Hardball with Chris Matthews, C-Span's Washington Journal, ABC Radio Network, National Public Radio, Janet Parshall's America and Tony Macrini's morning show on AM790, WNIS in Norfolk. He also does weekly commentaries for STAND which air on 300 radio stations through the Radio America network. He hosts his own Christian teaching program on WYRM AM 1110 in Norfolk, it can be heard all over the world via the internet.
His work has been reported by the Wall Street Journal, Washington Post, New York Times and many other publications. His editorial contributions have appeared in newspapers around the country. He is often requested as a guest speaker for churches and other organizations.
He may be contacted for speaking engagements and book signings through his administrative assistant at 757-648-9957 or exfmn@exfmn.org. The website is www.bishopjacksonministries.org
Bishop Jackson and his wife Theodora have been married 40 years, and reside in Chesapeake, Virginia.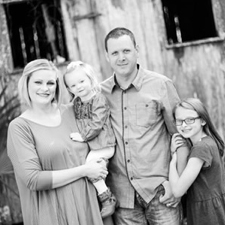 Hunter Erwin
From Walker, Louisiana, southern boy Hunter Erwin has been on the road singing Christian Country music all across the U.S. since 2008. It was Christmas 2007, after struggling for years with whether to leave his job and go into full time ministry, that Hunter walked away from his career to trust God completely to provide for his family. "It was as if God was saying, 'Hunter, I want you to depend totally on me.' I just couldn't struggle with it anymore. By January, it was all said and done, and Heather and I haven't looked back!"
Hunter has been given a host of titles by the Christian Country Honor Awards (CCMNow) for multiple years, such as: New Artist of the Year, Male Vocalist of the Year, Album of the Year, and Video of the Year. Though it is nice to be acknowledged, Hunter says that is not what it is all about for him. Why this "country" style of Christian music, one may ask? "It's for the saved to enjoy, and the lost to understand," shared Hunter. "Those who don't attend church don't always like the same style of music those of us raised in church appreciate. They need music relevant to them, music they are drawn to."
One of Hunter's biggest blessings has been to open for the Robertson family of Duck Dynasty fame just before the family members preached at many events around the country. Phil Robertson is a huge fan of Christian Country music and had Hunter over to visit one night in his home. After about 10 minutes of singing and sharing God's Word, Phil said, "You can stay here or go with me crawfishing!" After traps were dumped in the boat where Hunter's wife Heather sat terrified, the feast was held. Hunter sang and then Phil shared stories about many folks he has witnessed coming to the Lord. It was a night Hunter will never forget.
"I've known since I was a kid, God had this ministry for me. I grew up in church and was baptized at age 7. The water was over my head, so they had to tie an old milk crate down in the water with bailing wire for me to stand on. Even at that young age, God had begun His plan in me. When you're called to do something and God places you in a place to do it, you just have to do it!" says Hunter. "The passion and calling never goes away."
"We think of Hunter as our laid back 'George Strait' or 'Kenny Chesney.' His smooth baritone vocals remind us of those two artists. You won't meet a finer young man," said Rick Schweinsberg, A & R Director of Red Hen.
You can find Hunter in concert and traveling with his wife and two daughters, Lakelyn, 9, and Emery, 1 ½, on any given day by noting dates on his website at www.huntererwin.com. Watch for Hunter's new Red Hen single coming out soon, and listen to him on RadioGC.com.
Red Hen is the country division of Daywind Music Group, offering the best artists in this genre a home and support for their ministries and careers. The label is distributed by New Day Christian Distributors.